We are involved in many areas of both online and offline activities from secure web applications to data cleansing and not everything can be shown as an example. Here we provide some examples of websites we have delivered in the past.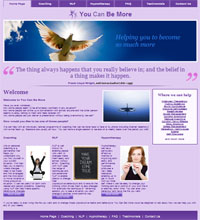 You Can Be More
The You Can Be More website is a hypnotherapy, neuro linguistic programming (NLP) and coaching site. They can help with; Interview Preparation, Public Speaking, Build Confidence, Improve Self-Esteem, Assertiveness, Anger Management, Control Emotions, Reduce Insomnia, Control Panic Attacks, Stop Smoking, Stress Management, Relaxation Techniques, Exams, Self Hypnosis and much more. The site includes many details of the services, with frequently asked questions answered and a contact form. We also designed the company logo.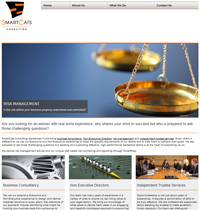 Smart Cats Consulting
The Smart Cat Consulting website belongs to Fraser and Sarah Smart specialising in providing business consultancy, Non-Executive Directors, risk management and independent trustee services. The website includes details of all of the services that they provide, information on what they do and how the company was formed and also features a contact form. The site is responsive to look good on a desktop to mobile device.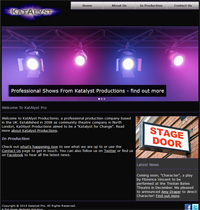 Katalyst Pro
The Katalyst Pro website belongs to director and actress, Kat Rogers for the professional productions that she works on with producer and actress, Liz Hammond. The site is responsive to different screen sizes and gives details about upcoming performances, details of the company including Kat and Liz and how to contact them. We had previously worked with Kat on her community theatre company website.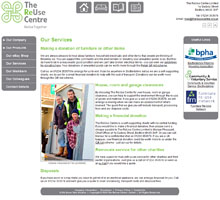 The ReUse Center
The ReUse Centre website belongs to The ReUse Centre Limited, a registered charity, which promotes the re-use of furniture, electricals and other goods. The company also provide volunteer opportunities for people in and around Bedford, helping them to obtain the skills and confidence when getting back into work. The site includes many pages showing everything they do, including how to benefit or help out and how to contact them. The website is easy to use and supports different font sizes for the poor sighted as well as simple navigation and lots of links. The site has a PHP contact form and uses Google Maps to direct people to their premises.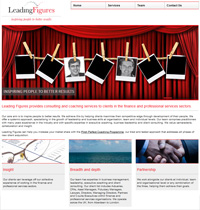 Leading Figures
The Leading Figures website belongs to Russell and Thomas. They help at many levels for organisations, teams and individuals with leadership growth, development of business skills and with partner/senior management appointments. The site is responsive to different screen sizes and includes details of their services (including their Pitch Perfect Coaching Programme), details of the team and how you can contact them.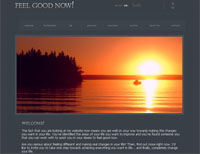 Feel Good Now!
The "Feel Good Now!" website belongs to Sallie for her NLP, hypnosis, personal coaching and training workshops. Hypnosis as a very powerful method for personal transformation. NLP (Neuro-Linguistic Programming) sessions to make emotional and behavioural changes, how you feel, act and re-act. Personal Coaching for focus, to achieve your goals, hopes and dreams in all and any area of your life. Bespoke training workshops are designed to develop individual potential, improving skills, changing behaviours and enhancing performance. It utilises a JavaScript technology known as Ajax to swap the photo and page content when changing pages without restarting the music score, which it does when changing pages without Ajax.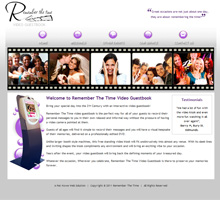 Remember The Time
The website Remember The Time belonged to Kelly and Warren who set up a video kiosk business catering for events such as Weddings, Birthday Parties, High School Proms, School Reunions and many others. Before they sold their business towards the end of 2014, they were based in Ipswich, Suffolk but covered all of East Anglia and beyond. The site featured details of the service, the events they catered for and how to contact them. The website has different film strip banners on each page and a PHP contact form that was used to request a quote or to check availability. There is a random selection feature that displayed their testimonials on the home page.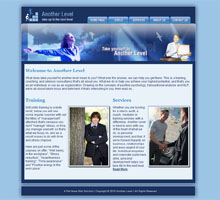 Another Level
The Another Level Consulting website belongs to Kathryn for her human resource services and executive coaching business. The business was drawing on the concepts of positive psychology, transactional analysis and NLP. All about future focus and fulfilment. We had previously worked with Kat on her theatre company website so we managed to get this site up and running quite quickly but the site is no longer operational as Kat decided to concentrate on her Theatre work. The links here are to a demonstration copy that I have on my site.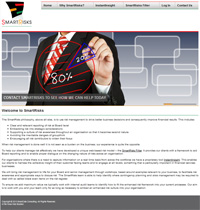 Smart Risks
The Smart Risks website belongs to Sarah Smart for the Risk Management side of her Smart Cats Consulting business. The Smart Risks website is responsive to different screen sizes and gives details of the tools that she uses, one of which we were involved in. The SmartRisks Filter is a web application that helps a board to identify, record and report risk in an easier manner so they can focus on the most important areas. It makes it easy to produce visual and meaningful summaries of the overall risk situation.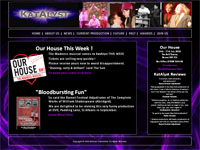 Katalyst Productions
The Katalyst Productions website belongs to Kat and Andy for their community theatre. KatAlyst aims to be a "Katalyst for Change" in community theatre by allowing all our members to learn from one another, and giving opportunities to the younger ones to job shadow directors, choreographers and technicians as well as perform to grow their natural enthusiasm and abilities. The pictures on the About Us page and those in the photo galleries can be clicked on to enlarge and have a lightbox type effect.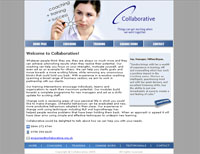 Collaborative
The Collaborative website belongs to Sandra for her Human Resources support business. The bespoke HR service is tailored to meet the specific needs of the organisation. They can coach and support an internal HR resource or provide expertise where there is no dedicated HR provision. The site explains how they can help with details of the services offered and how to contact them.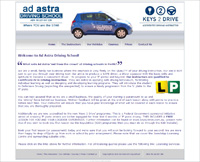 Ad Astra Driving School
The Drive Ad Astra website belongs to Craig and Sharon for their driving school when they emigrated to Perth, Australia as they were setting up a driving school. Their business has been very successful and had 50 driving test (practical) passes in the first year of trading. The site uses a method known as hijax, which is based on ajax but has a nice fallback to normal page navigation for users with JavaScript disabled.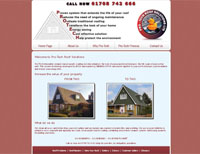 Pro-Tech Roof Solutions
The Pro-Tech Roof Solutions website belongs to Tom for his roof solutions business. Pro-Tech use a ceramic based acrylic coating based on proven technology developed by NASA and backed by ENERGYSTAR. The coating can now be applied to your roof to increase your insulation, reduce your energy bills and increase the life span of your roof. Pro-Tech also clean all moss and lichen from your roof surface and replace any cracked or broken tiles and pointing. Some of the pages had nice features like the dynamic photo gallery and the roof viewer using Google Earth/Maps.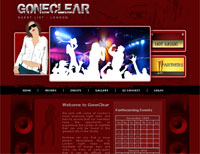 Gone Clear
The Gone Clear website was built for a group of clubbers and it enabled visitors to get on the guest lists of many of London's most prestigious night clubs. The site is no longer operational as the site owners turned their attentions elsewhere but we have a demonstration set up on this site where you can register, login and join guest lists but as this is a demonstration only, you will not really be added to the clubs guest lists. The guest list administration was all done through the management system on the site and we had included a lot of features that were never implemented, such as club owners being able to manage their guest list themselves.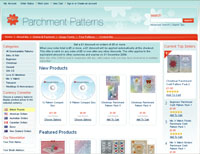 Parchment Patterns
The Parchment Patterns website belongs to Gilly to sell the parchment craft patterns that she designs. We had previously created our own shopping cart but that site was for physical goods rather than digital downloads and we didn't have time to make the modifications required for that. We purchased an off the shelf package and made the changes to the shopping cart software to give it the functionality and design that Gilly required.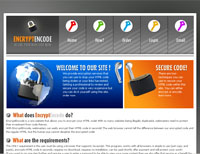 Encrypt Encode
The Encrypt Encode website is a specialist website offering both online and consultancy services in the IT security sector. The website includes details of all of the services that they provide, information on what they do and accepts payments online for encryption and encoding services. The site is built using PHP and features both a contact support form and a get a quote form.