First of all some words from the founder of My Web Minder, Pat Howe.
"Over the years I have had a few different hobbies but one or two have stayed the course, of which Computing is one. I have had a couple of different career paths that have always led to management but within these I've always tried to utilise my computing skills to enhance what we do.
"For over 20 years I have had the pleasure of working in the field of my hobby as a software developer and now managing software developers and projects as the Head of Platforms Development at Buck. I am part of a global team so that means I get to work with colleagues from many countries around the world.
"Management doesn't leave me much time to code at work anymore but I still stay involved as I have my own business in which I help small businesses and not for profits with the kind of professional development services that they would otherwise not be able to afford.
"My hobby is my work and my work is my hobby so I am one of the lucky ones that gets paid for doing what makes me happy. I would just like to point out that I am not a spokesperson for my employer so everything that is on this site is entirely my own opinion and not that of my employer. Likewise, all services offered by this site are nothing to do with my employer and they are not responsible for these services."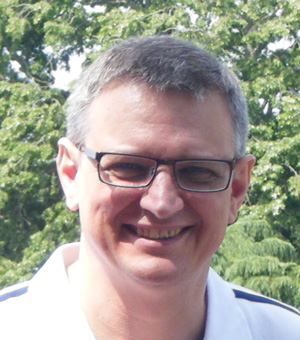 My Web Minder (MWM) originally started trading for web application development in 2007. Pat Howe Web Solutions (PHWS) was launched in 2009 to replace it for all website design and web application development whilst MWM started hosting and domain names services exclusively for customers of PHWS.
In 2011 My Web Minder also started a website minding services plus SEO and Email Marketing services and ran a number of it's own websites for profit.
In January 2014, My Web Minder expanded with additional staff and took on all the responsibilities of PHWS. It became the trading name for Pat Howe Web Solutions and offered all of its services in one place; website design and development, web or mobile applications, domain names registrations, website or email hosting, search engine optimisation, search marketing, backups/restores, patching/upgrades, vulnerability scanning, security auditing, email marketing and help with social media marketing. The old PHWS website became Pat Howe's blog that same month.
There are many website related services offered by My Web Minder. If you cannot see what you are after on this site then please use the contact page to ask a question.
Feedback and testimonials from our many satisfied customers for whom we have designed, built and/or hosted a variety of professional websites, web applications and secure databases. There have been many quotes from our clients and you can see more of them on our feedback page.
Pat provided excellent consultation from the outset of us contacting him. Although we had our own ideas Pat developed those further and the end product was not only very professional but outstanding, needless to say our website stands out from all our competitors!
It was cost effective and the customer service before and after the website went live was by far beyond our expectations; any amendments or enhancements have carried out well within our time scale.
I guess what I am trying to say is that if I wanted another website or a colleague required a website I would highly recommend Pat. Thank you.
I would without a doubt recommend working with Pat, it was an exceptional experience. He was professional and approachable paying attention to understanding my business needs.
I have very little knowledge of the technicalities of website design, Pat patiently explained things and made suggestions that were in keeping with my original idea.
I am extremely proud of my site and Pat was easy to work with, adaptable and flexible. Just check out my site and the others he has created, they speak for themselves...
I have found Pat to be extremely efficient and professional in every way. His work is always punctual and top grade.
I regularly need work done on my websites and I have found that Pat is able to solve problems as well as use his creative flare to produce great work. He became an integral part of my business team.
Working with Pat Howe has been a real pleasure. Not only has he been quick to understand what we needed but he has also helped us with ideas and options as our new website developed.
Pat has been both professional and approachable and he certainly gets a thumbs-up from me!
Here are a few examples of websites created for our clients. There are more examples, including web applications, on our website examples page.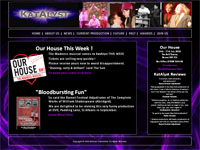 Katalyst Productions
The Katalyst Productions website belongs to Kat and Andy for their community theatre. KatAlyst aims to be a "Katalyst for Change" in community theatre by allowing all our members to learn from one another, and giving opportunities to the younger ones to job shadow directors, choreographers and technicians as well as perform to grow their natural enthusiasm and abilities. The pictures on the About Us page and those in the photo galleries can be clicked on to enlarge and have a lightbox type effect.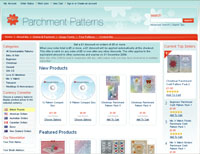 Parchment Patterns
The Parchment Patterns website belongs to Gilly to sell the parchment craft patterns that she designs. We had previously created our own shopping cart but that site was for physical goods rather than digital downloads and we didn't have time to make the modifications required for that. We purchased an off the shelf package and made the changes to the shopping cart software to give it the functionality and design that Gilly required.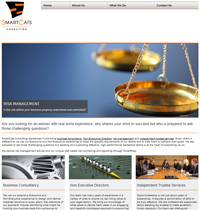 Smart Cats Consulting
The Smart Cat Consulting website belongs to Fraser and Sarah Smart specialising in providing business consultancy, Non-Executive Directors, risk management and independent trustee services. The website includes details of all of the services that they provide, information on what they do and how the company was formed and also features a contact form. The site is responsive to look good on a desktop to mobile device.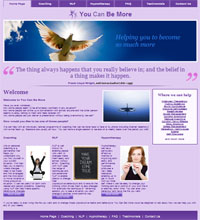 You Can Be More
The You Can Be More website is a hypnotherapy, neuro linguistic programming (NLP) and coaching site. They can help with; Interview Preparation, Public Speaking, Build Confidence, Improve Self-Esteem, Assertiveness, Anger Management, Control Emotions, Reduce Insomnia, Control Panic Attacks, Stop Smoking, Stress Management, Relaxation Techniques, Exams, Self Hypnosis and much more. The site includes many details of the services, with frequently asked questions answered and a contact form. We also designed the company logo.