We offer many services through My Web Minder and not all of them online. The basic method of delivering design or development projects will follow the development process described below.
Consultation
If you need a new website, want your existing site redesigned or want a quote for anything else then the best place to start is to use the form on the contact page. You can either give us some brief details, ask us to contact you or you can fill in the details yourself. If so, you should provide as much detail as you can about what you require on the form. Be sure to tell us if you have a budget constraint or deadline.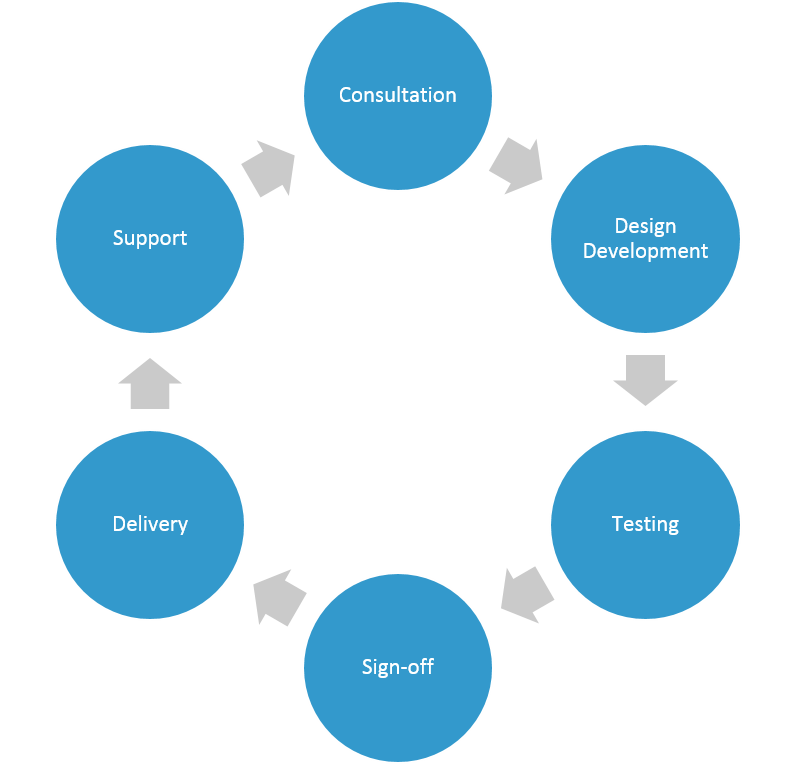 The design/development process
If we have enough information on the form we can usually give you an estimate within a few hours. If not we will get back to you at a convenient time so please let us know when it is best for you.
We are based in Bedford, UK so unless you are based in Bedfordshire all communication usually happens by email or a pre-arranged telephone call or video chat. We do also sometimes meet up in other locations or visit a client's premises for large projects.
The consultation can take a bit of time and may involve several conversations and emails. This is to make sure we know exactly what you want so we don't waste your time. On top of that, you may have questions for us or we may ask your opinion on certain options that can be provided. We try to conduct this consultation as quickly as possible whilst fitting around your busy schedule.
Very rarely, we may defer giving you an estimate until we have done a bit of research or we may decline a job because it is outside of our areas of expertise. This is of course unusual and normally we can take on work and give a quote within a few hours or after a brief consultation.
You can decline our quotation and pay nothing or you can decide to go ahead. Depending on the project (and for all new customers), it is usual to pay a non-refundable deposit of the estimated fee in advance. Will we provide details of any deposit required in our quote and also a likely timescale.
If you decide to go ahead then we move on to the Design/Development phase.
Design/development
The process for the design or development phase is usually the same if the development is a new application, database or website. Basically, we mock something up, get your opinion and then build it. However, if the development project is say bug fixing then a mock up would be inappropriate so that would not apply.
If we are designing this will mean creating a sample image or images in a PDF for you to view, although sometimes for web design we will mock up some dummy sample pages online. For applications, we might also produce diagrams so that you can check the process flow.
For a website or online application we will need to know where it is to be hosted so we can check that it meets the minimum criteria for hosting the finished product (if you don't already have hosting we can provide that via My Web Minder at a very good price).
If content is required we will contact you. Content can include any graphics or wording that you would like to be included or that we will need to complete the project. We can of course provide graphics and can write content if you prefer, but this may be at an additional cost.
We may contact you for your opinion as we progress the design or development but before we build it, you will be asked to give us the go ahead. If you don't like the initial designs then with your feedback we will redesign. We only allow a certain amount of time for redesign work in our quotes so we make sure we get all your feedback in one go.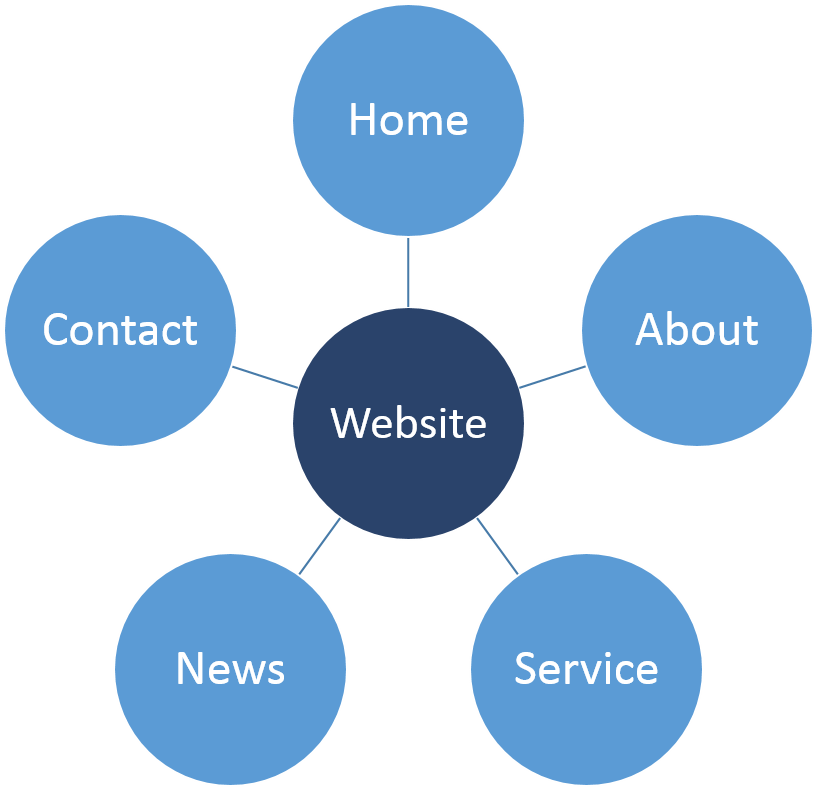 Typical 5 page website layout
Following on from the mock up stage we will build the design or develop the application. You will be kept informed of progress along the way. When it is complete we move on to the testing phase.
Testing
Once the design and development phase has been completed we enter the testing phase. We use the term testing to also include checking. Testing applies to anything that is functional, whereas checking applies to design or wording.
Testing (or checking) will in part need to be completed by you. For applications or functional areas on a website such as contact forms, we run through system tests as part of the development before we hand over to you. However, testing in this phase (also referred to as user acceptance testing) is to make sure you are satisfied with the project before sign-off.
If you should spot anything wrong in the testing phase, we will correct it and it will go back to you for a retest. Once you are happy with the testing we move into the sign-off phase.
Sign-off
When you are happy with the testing, you will be ready to sign-off. Sign-off just informs us that you are ready for delivery (or in the case of a design, to take delivery of the finished product).
When you sign-off you will be invoiced for the remaining amount. Once you have settled the invoice we will move into the delivery phase.
Delivery
Once you have signed-off and your invoice has been settled, the product will be delivered. This will be by whatever arrangement that we have agreed.
For a print design we will send you the file to be used with your chosen printer (although it is good to know the print dimensions of your printer beforehand) or for a web design, we will send you the files we used in the format we agreed.
For a website, database or other application we will either send you the files you need to upload yourself (including any instructions) or we will deploy these for you. If you want us to deploy for you then you will need to provide all of the hosting credentials that we will need (this is simpler if you use My Web Minder hosting).
Support
After delivery, you may want to make changes to the website or application. You can engage us again, make changes yourself or hire someone else. The code on all web applications always remains the property of My Web Minder but you will have an exclusive right to copy or modify it but not to sell it or distribute it. You must leave any "in code" copyright statements intact. This covers copyright notices from My Web Minder or other parties.
For applications we will also provide you with a reasonable amount of support for free (usually 60 days). If you want to extend that support then we can offer annual maintenance agreement.
We are also pretty flexible about tweaking website wording and if the change would only take a minute or two then we tend to do that for free. Any graphical or layout changes will always take longer and will be chargeable.